Last month I won something which was a first for me!! I entered Etsy shop Handmade in Toronto's giveaway in early March. My first contact with this beautiful Etsy shop was on March 3 when I was doing a Treasury
http://www.etsy.com/treasury/MTMxMzY3OTB8MjMzNzcxODc2Ng/spring-salmon
.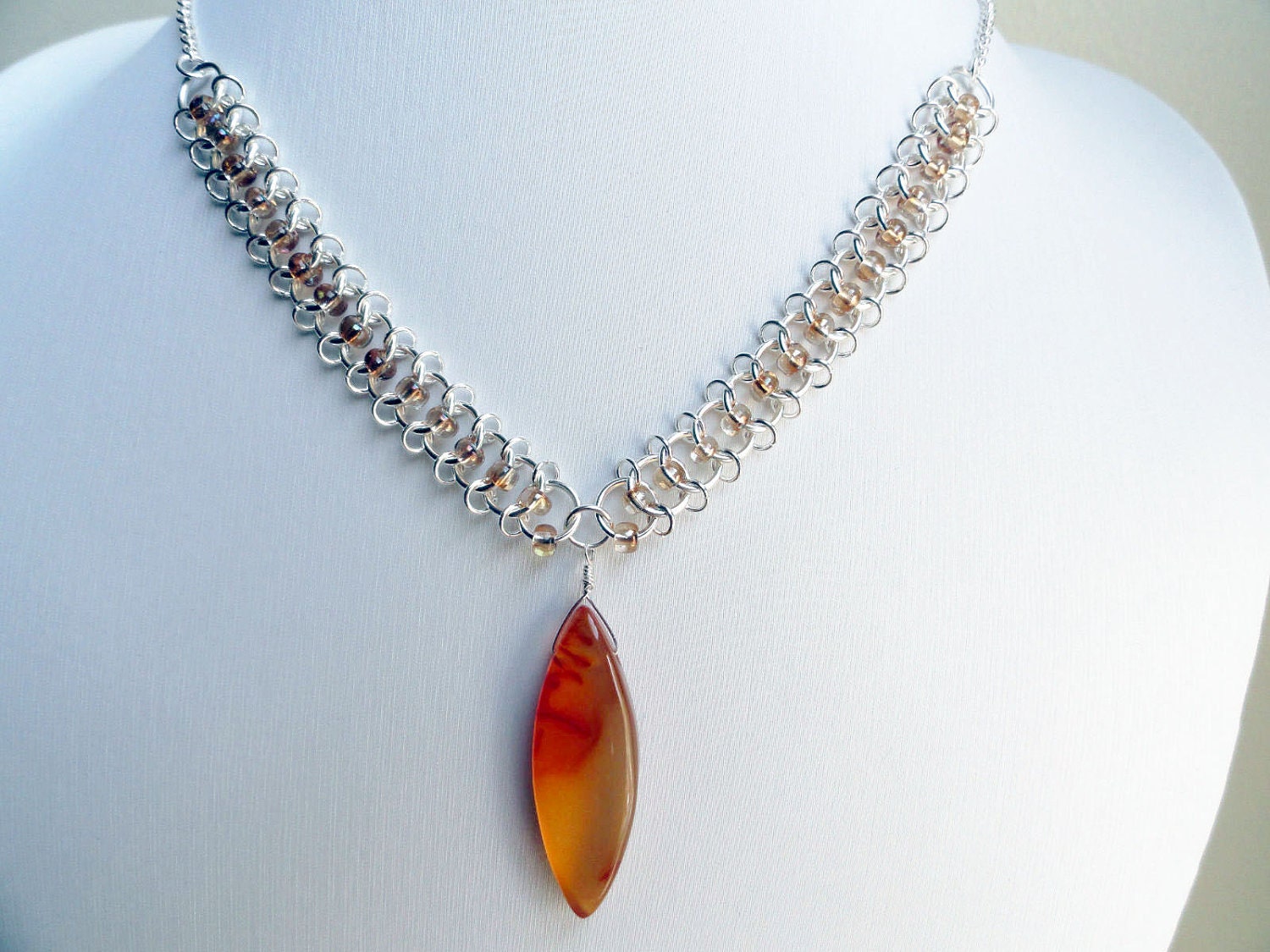 Kate's beautiful chainmaille necklace fit right into my Treasury theme: Spring Salmon
http://www.etsy.com/listing/86477638/beaded-chainmaille-necklace-flame-orange?ref=tre-2337718766-7
. The more I looked at this lovely necklace the more I fell in love with it. The lovely little amber beads caught in the chain, the stunning flame orange oval agate, the length of the necklace and drop, the beauty of the silver chain. I started looking at her shop and the simplicity and beauty of a her work. She has a great eye for the balance of the colors in natural stone/glass and chainmaille.
I don't remember how I became aware the HandmadeinToronto giveaway - maybe the initial visit to her blog:
http://handmadeintoronto.blogspot.com/
. She was hosting a $25 Gift Certificate giveaway through rafflecopter, a new experience for me. At first I looked at the 'Enter to win' and thought better of it, it seemed a little too invasive to give all this information to a strange website. But as I thought of the beautiful necklace and my granddaughter Sarah, the more I decided it would be great to be able to subtract $25 off the price of a piece I thought she'd love.
So I entered. I was initially confused (still am somewhat) at the request to leave information in Comments, not understanding whether this meant Rafflecopter comments or blog Comments. I know I left them on the blog but I'm not sure I ever did on Rafflecopter. In a later blog announcing the winner, I read that several people had trouble leaving comments.
I promoted the Giveaway by tweeting several times. Following the blog over the next couple of weeks, I couldn't tell how to track how many responders there were. I waited hopefully and expectantly . . .
On March 20, I received notice that I HAD WON!! YEAH!! First win ever.
In an email, Kate thoroughly explained the terms of my triumph, I had two years to order, I would pay shipping if the gift certificate didn't cover it, etc.
I had no trouble deciding what to do with my gift certificate - I was going to buy a gift! And I couldn't resist adding the lovely silver orange, yellow, honey, red earrings from Kate's shop.
I stumbled through the process of submitting my order, Kate patiently explained how how to pay,
"'Select "other" payment (below paypal) - not coupons
Confirm your delivery address
In the notes to seller - please insert your gift certificate number
I then check this and the value
I will then send you a paypal invoice for the balance"
In just a few days my package arrived! Everything was in beautiful condition. Included was a business card and instruction on how to care for my new jewelry. A fabulous buy with my newly won $25 gift certificate.
Being a very happy winner, I'm very grateful to Handmade in Toronto for hosting this giveaway.
I'm wondering how many of you have hosted a giveaway, and would like to know about your experiences. Did you use rafflecopter or something like it? How would you rate it as a promotional tool?
I invite you to go to and visit Handmade in Toronto for other lovely items:
http://www.etsy.com/shop/handmadeintoronto
.




Blessings and thank you again, Handmade in Toronto!