Shopping Etsy for great accompanying jewelry for my Earthtone Green Brown Copper Bead Woven bracelet: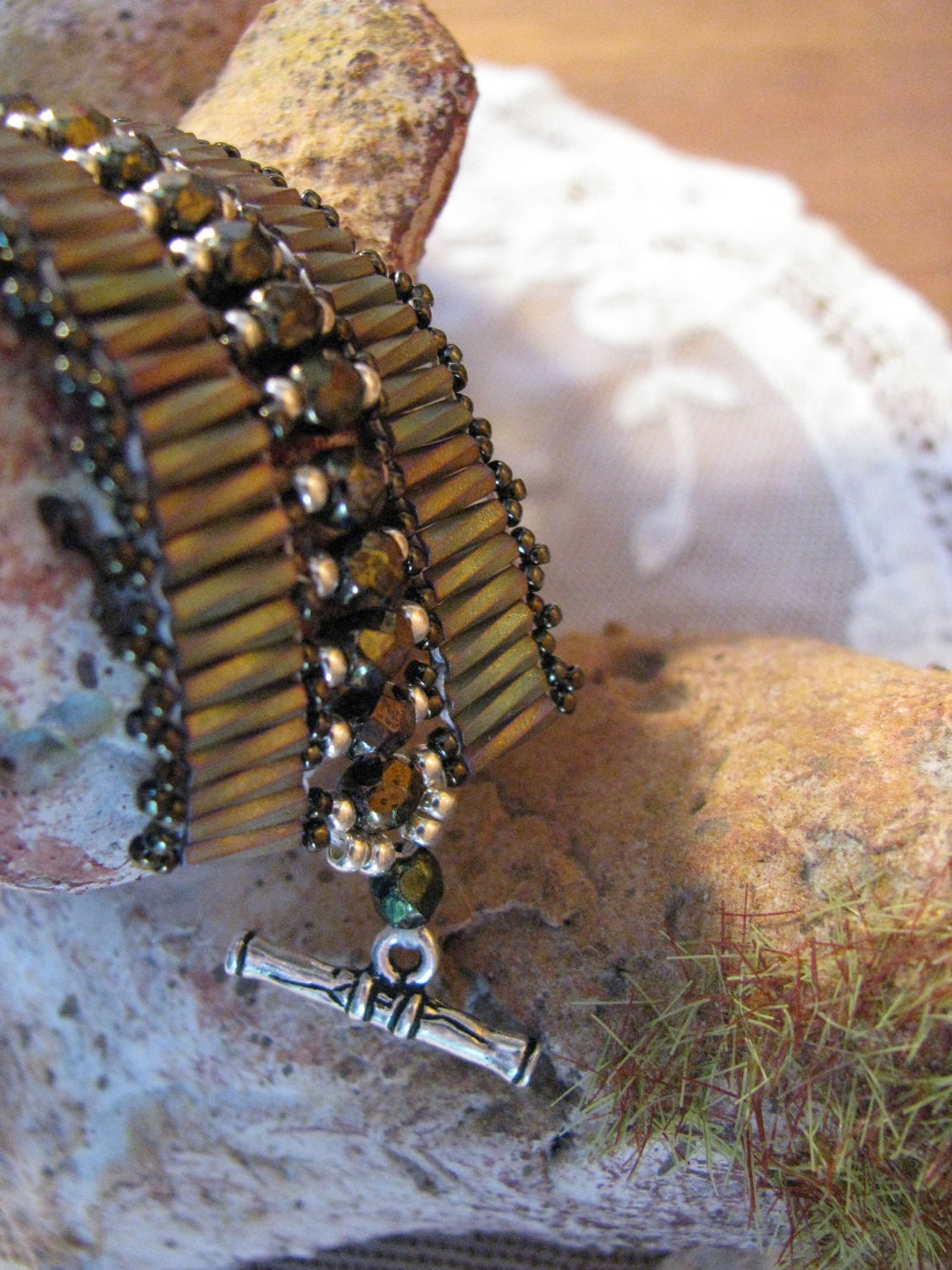 Characteristics of this bracelet are tropical, emphasized by the silver bamboo leaf toggle clasp. This brings to mind warm mist, waterfalls, tropical bird calls. Although made with all glass beads it has a natural look about it. The green copper twisted bugle beads have a matte sheen. Silver would go with it; copper and even gold colors are reflected in the beautiful greenish copper bugle beads. It is a classy accessory that can go grand or casual.
I took and shopped Etsy for pieces of jewelry that would be beautiful with it. Following is what I found.
The colors in this lovely pair of earrings from Etsy
LeatherWoodsDesignShop
are a great match. They emphasize the natural, have great presence and would cover the distance from hand to ear very well.
Element4you
has this beautiful pair or earrings. The soft green in the pearls is a perfect match to that in the bugle beads. The brown bicone is a match with the tiny brown luster seed beads that create the scalloped trim on the outer edges of my bracelet. I like the silver spacer beads and copper earwires. They seem to be made for this bracelet.
I love this very simple spare pair from Etsy
aquashella
shop. 'Classy' is the word. The silver brings an earthy element to the neutral natural colors in the faceted glass bead!
I'm not sure if I know why I believe the next pair work. They come from the Etsy TesoriTrovati shop. Perhaps my bracelet looks like part of the belt of a mechanism that would use these to operate.
Another stunning pair of earrings! These from
BodaciousBiddies
shop at Etsy. They are a light hearted pair that look like they were made for my bracelet.
A rave about this lovely necklace! It has the beautiful rose copper that perfectly matches that in the bugle beads, the mysterious dark green of the Czech fire polish center line of my bracelet and the soft green in the bugle beads. PamelaCurran's sterling silver seed beads and clasp add the finishing touch to this adorable necklace.
And a sea green, copper and brown gingko necklace with that same beautiful combination of colors that I enjoy so much in this particular bracelet. The green is brighter but the mottled muted And on a silver chain also!! See Etsy shop
FlightofLight
for more information on this lovely necklace!
While looking through my Castteam jewelry I came across this lovely green brown set. I'm missing the silver in this but love the brown Czech glass beads and brown in the ring's wire. A beautiful set (also includes a bracelet) in the Etsy
mompotter
shop!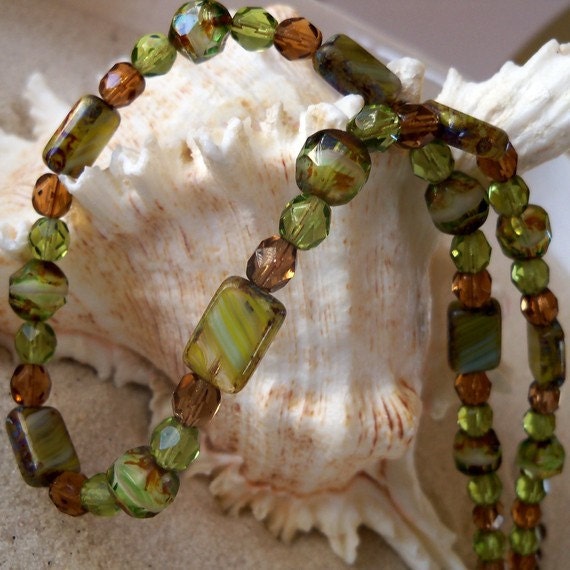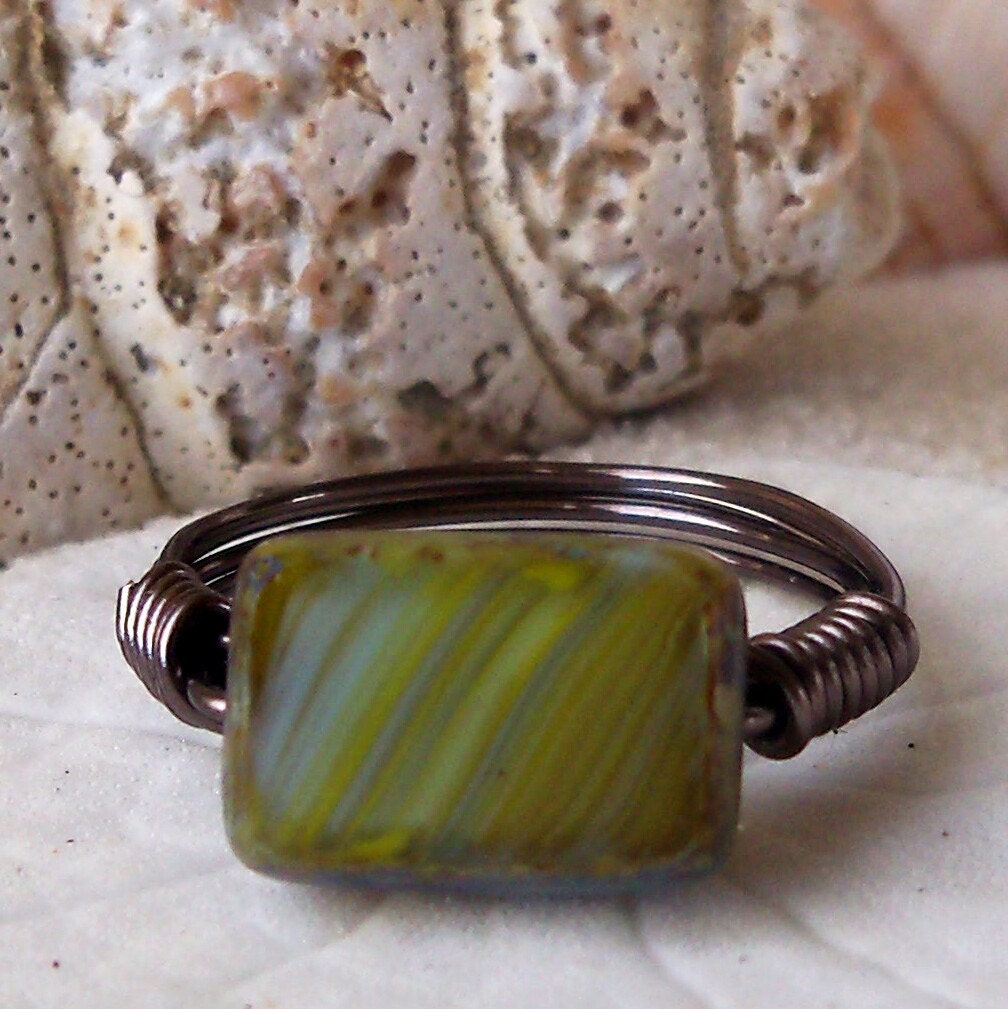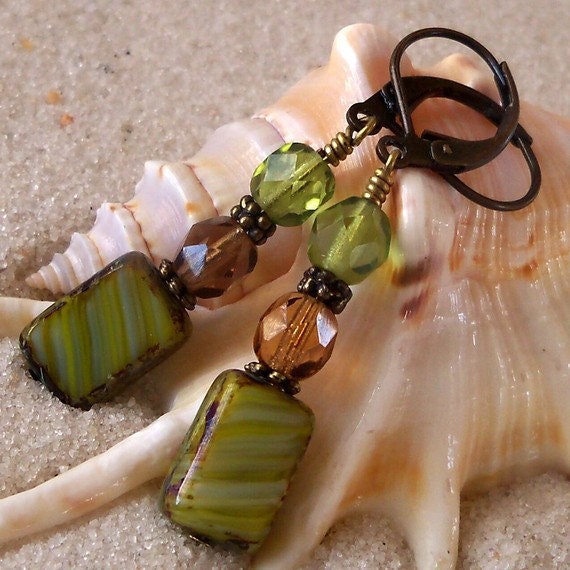 See
http://www.etsy.com/listing/83259078/brown-and-green-beaded-necklace-forest
for necklace. Other set pieces are close by.
If you know of any other suitable options, it would be great to hear from you.
Thank you.